Frillice lettuce with crunchy ground nuts and seeds combined with chickpeas seasoned with Christmas spices
For a colourful and vitamin-rich winter salad, thinly chop the Frillice lettuce and cover all leaves with the dressing. Initially, it will taste slightly sour, but the tartness will be balanced out once you add the chickpeas and ground nuts and seeds. The nuts, seeds, and chickpeas add heft to this salad, making it a filling winter appetiser.
Contents
200 g Frillice lettuce
1 package Grüne Fee pea shoots
2 cloves garlic
juice of 1 lemon, freshly squeezed
5 tbsp olive oil
200 g raisins
a pinch of salt and pepper
pomegranate seeds for garnishing
CRUNCHY GROUND NUTS AND SEED
125 g cashew nuts
1 tbsp sesame seeds
2 tbsp pumpkin seeds
5 tbsp nutritional yeast
1 tbsp olive oil
a pinch of salt
CHICKPEAS
400 g chickpeas
1 tbsp olive oil
a pinch of salt
1 tsp ground ginger
1 tsp ground cinnamon
1 tsp ground cardamom
5 tsp cayenne pepper
Use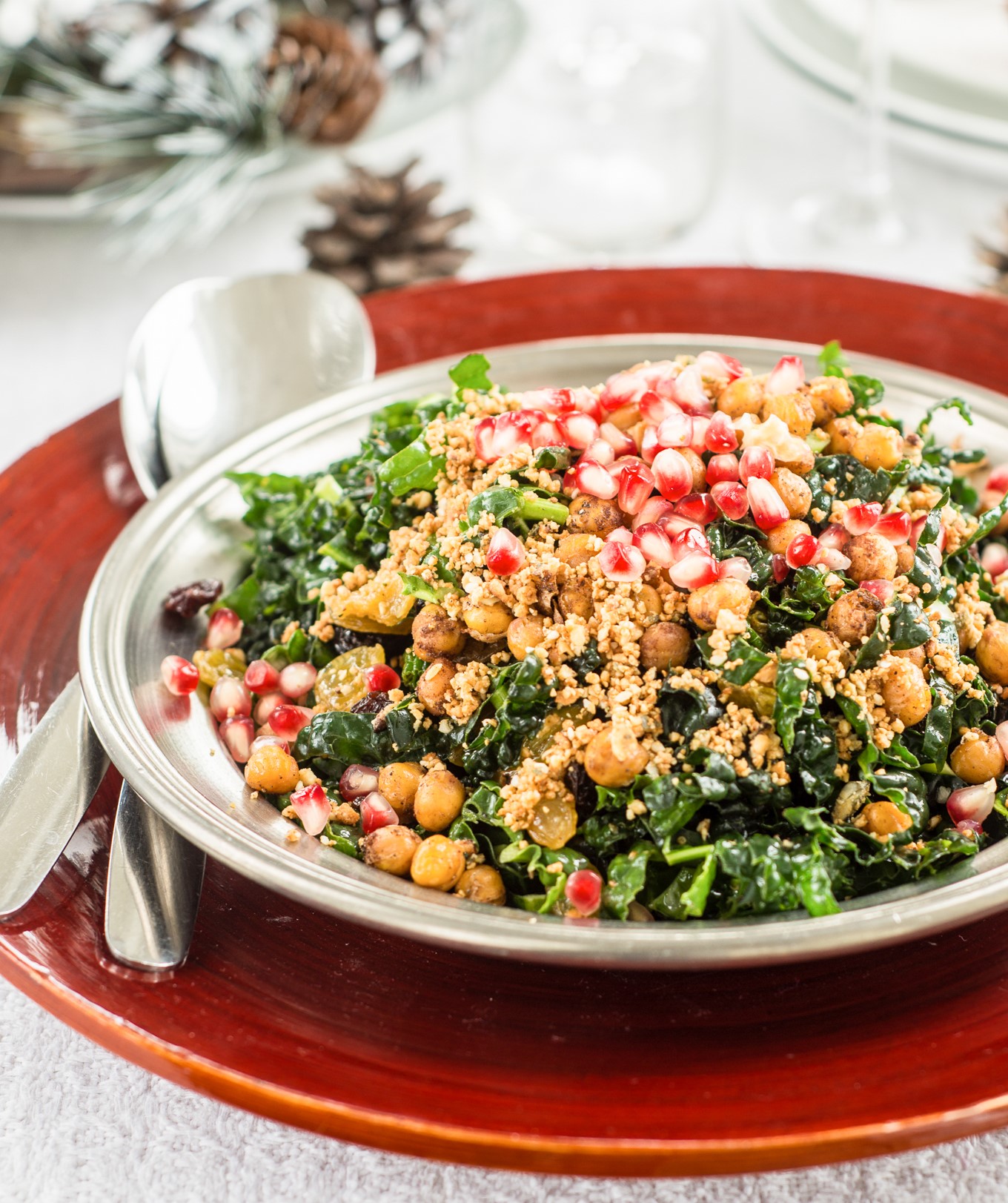 Preparation
Cut up the lettuce leaves and pea shoots, wash and dry.
To make the dressing, crush the garlic, then mix with the lemon juice and olive oil until smooth. Season with salt and pepper. Pour the dressing over the salad and mix well. Make sure to coat all of the salad with the dressing. Add the raisins and mix. If possible, let stand in the refrigerator for an hour.
To make the crunchy nut and seed mixture, spread the cashew nuts over a lined baking tray in a single layer and roast at 150 degrees for 7–8 minutes. Crush coarsely. Add the pumpkin and sesame seeds, nutritional yeast, oil, and salt, and crush into a fine mix. Season with salt.
Pour the chickpeas into a sieve, rinse under running water and pat dry with kitchen paper. Pour the chickpeas into a bowl and mix together with the olive oil, salt, and spices. Spread the chickpeas over a lined baking tray in a single layer. Roast at 200 degrees for about 30 minutes, mixing every 10 minutes.
To serve, mix half of the crunchy mixture and chickpeas into the salad. Place the salad on a larger tray, then sprinkle the rest on top. Garnish with pomegranate seeds.
Recipe and photo by Mari-Liis Ilover.
< back