Tomato stew with fried chicken and balsamic vinegar
A flavourful tomato and chicken stew made with a variety of fragrant herbs.
Contents
8 chicken drumsticks
2 tbsp olive oil
20 cloves garlic
6 sprigs thyme
2 tbsp balsamic vinegar
a pinch of salt
a pinch of pepper
TOMATO STEW
600 g tomatoes
100 g onions
150 g fennel
2 sprigs thyme
4 tbsp olive oil
chopped fresh coriander
Kasuta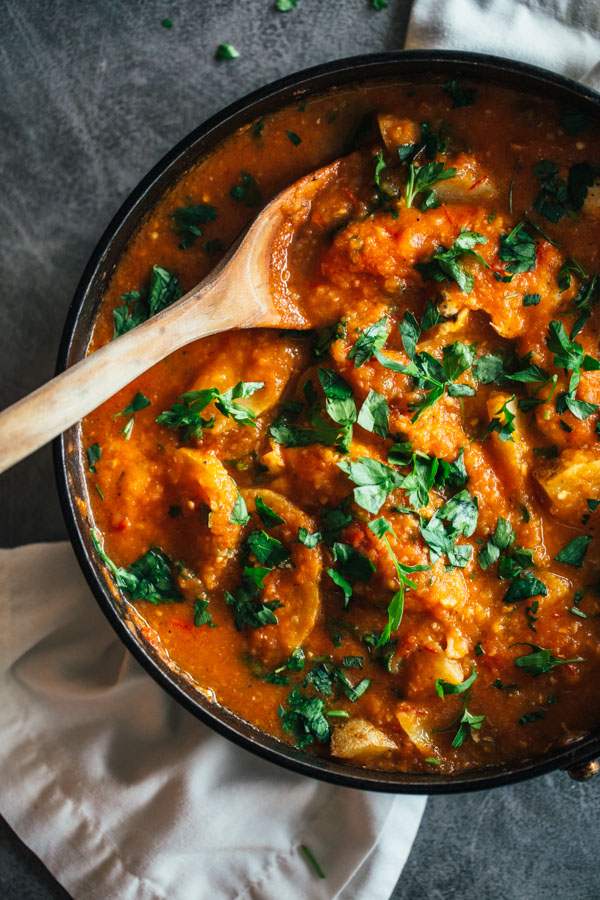 Preparation
Season the chicken drumsticks with salt and pepper, fry in oil until brown on each side. Peel the cloves of garlic, add to the pan with the thyme, then roast in the oven at 150 degrees for 25–30 minutes.
Place the drumsticks in a bowl and cover with foil, keep warm. Add the balsamic vinegar and 1 tbsp water to the pan and use a wooden spoon to scrape loose any browned sections from the pan. Heat while stirring for a few minutes, until the liquid becomes thicker and stickier. The amount of sauce should be reduced by half. Pour over the chicken drumsticks.
Coarsely chop the tomatoes, peel and slice the onions. Cut the fennel into 1 cm thick strips. Chop the thyme. Heat the onion in olive oil in a pot for about 3 minutes, then add the fennel and thyme, cover with a lid, and heat for about 3 minutes. Season with salt and pepper. Add the chopped tomatoes and heat while covered for 15 minutes. As the tomatoes boil, they will turn into a delicious sauce. Add the chopped coriander and season with additional salt and pepper, if necessary. Serve with the chicken.
< back